Herbert Singleton, noted folk artist dies.
By Doug MacCash
Arts writer


Herbert "Coon" Singleton, internationally known folk artist, died July 25 of lung cancer at Jo Ellen Smith Convalescent Center. He was 62.
Born and raised in Algiers, Singleton earned a living as a construction worker, working on structures such as the Mississippi River Bridge. In the early 1970s, he began carving the stumps of fallen trees into front-porch totems and branches into ceremonial canes.
By the 1980s, his carvings caught the attention of local art collectors as his work became more complicated and political. Using only a hammer and chisel, he transformed discarded chifforobe panels into symbolic friezes, depicting biblical scenes, Voodoo icons and second-line parades. He also frequently depicted the poverty, drug abuse and violence that plagued his neighborhood. He painted his carvings in bright colors with ordinary household enamel and inscribed then with cautionary phrases such as "Who do we trust?"
"His pieces were never placid scenes in the community," said art dealer Andy Antippas, who has sold Singleton's works since the early '80s. "There was always some reminder of what was going on in the community -- the demolishing of the social fabric he grew up with . . . He was simply reporting the facts, choosing those things as a political cartoonist might."
His works appear in The Ogden Museum of Southern Art and the New Orleans Museum of Art, but over the years, Singleton's carvings earned him a following far beyond New Orleans. Most major private folk art collections include his artwork and his pieces are exhibited in such institutions as The High Museum of Art in Atlanta, American Visionary Art Museum in Baltimore, the Smithsonian Institution in Washington, D.C., and Collection de l'Art Brut in Lausanne, Switzerland.
"He was a major force in the world of self-taught art, not only in our community, but nationally," said William Fagaly, curator of African art at the New Orleans Museum of Art. "He wasn't imitating anyone else. He had his own voice, a very strong voice. He addressed African-American issues, race issues, inequality and New Orleans traditions like jazz funerals, which are unique to this city. His pieces are not just powerful but beautiful."
The power and beauty of Singleton's work was based in part on his own bitter experience. According to published accounts, he was a shooting victim and served time in the Louisiana State Penitentiary at Angola.
When discussing Singleton's work, artist Willie Birch said labels such as "folk artist" don't apply. "I would always tell him 'Forget the label self-trained, outsider or whatever,' " Birch said. "He was a great artist and at some point in his life his work would be recognized as great art."
Los Angeles art collector Gordon Bailey, who owns 40 of Singleton's works, believes that day has already come.
"I loved Herbert," he said. "His work is extremely important American art because it captures the soul of Herbert. There was an authenticity about his art that we rarely see. He railed against hypocrisy. He was interested in the truth."
Survivors include his children, Herbert Singleton II and Michelle Singleton Anderson; Andeka, Herbert and Anthony Antoine, and Latifah Pichon; his father, Herbert Singleton; his mother, Elizabeth Robinson Singleton; three brothers, Lionel, John, and Thomas Singleton; three sisters, Mary S. Byrd, Doris S. Harris and Sherry Singleton; two stepbrothers, Wayne Singleton and Herbert Jackson; eight stepsisters, Sheila, Juliette, Georgette and Antoinette Singleton, Debra S. Rogers, Lisa S. Allen, Lynette S. Watler and Sheila Jackson; and eight grandchildren.
A memorial service will be held Saturday at 10 a.m. at Davis Mortuary Service, 230 Monroe St. in Gretna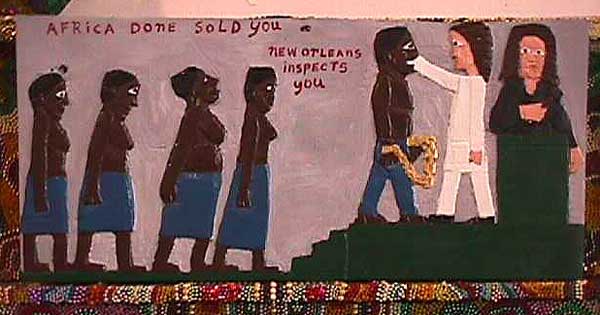 Sold At Auction

PLEASE NOTE:
If you wish to sell any of Herbert's work purchased
from Barrister's Gallery, or elsewhere, please contact
us and I will help you find a buyer. Because I have
been Singleton's dealer and friend for over 15 years,
I am most familiar with his carving and painting
techniques and can provide you with a document certifying the authenticity of your piece.
It came to my attention eight years ago that,
unhappily, while I was in the complicated process
of moving thousands of pieces of inventory from
Royal Street in the Quarter to what is now my
former location on O. C. Haley Blvd, in 1999-2000,
unscrupulous, pernicious dealers acquired pieces
which were unfinished and subsequently augmented
and painted by others--an enterprise, apparently
that began even earlier—I have already tracked
down six of these forgeries. It has also become
apparent that another New Orleans carver has tried
to emulate Herbert's style and subject matter and
already passed on some of his own work as Herbert's.
Put your mind at ease, or go get your money back.
E-mail jpegs to
Aantippas@aol.com
.
Or call 504 710 4506